written by Christina Brakeman, RKC Journalist
A scene of about thirty people talking amongst their groups and friends emitted an affectionate, welcoming atmosphere in the rustic country cabin. The official Butte Valley Citizen of the Year award sat in front of a silk backdrop with a vase of gypsophila flowers, better known as baby's-breath, and a sunflower accentuating the award. Laughter and jovial conversation echoed in the cabin as the fairy lights hung above members of the Butte Valley Chamber of Commerce, the Dorris Lion's Club, Rural Klamath Connects, and the Butte Valley Museum & Historical Society.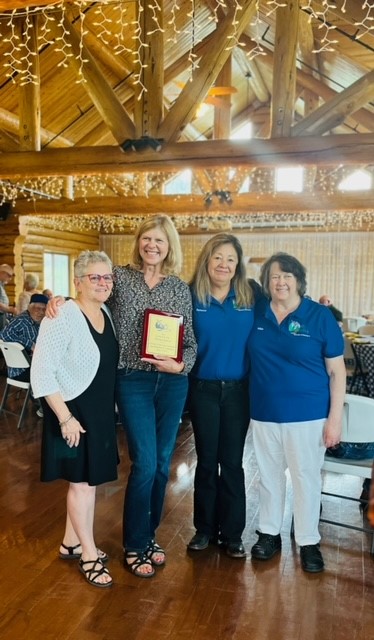 On June 11th, 2023, the Butte Valley Chamber of Commerce named Christine Baldwin their Citizen of the Year! With an honorary dinner and presentation at the beautiful Butte Valley Community Center, Christine's tireless service to the Butte Valley community was celebrated.
Being involved in the community for 14 years, Christine volunteered her time to make many positive changes.  She served on the board of Rural Klamath Connects and introduced the idea of a barn quilt tour. The RKC Barn Quilt Tour was started in 2020, where wooden 8-foot quilt blocks with unique designs were placed at historical and meaningful locations in the Five Friendly Towns of Klamath Country, which include Merrill, Malin, Bonanza, Tulelake, and Dorris. The tour continues to grow and will one day include literature on the meaning of each pattern, and information about the buildings they are placed on.
Chris served on the Butte Valley Museum for 12 years and was instrumental in acquiring the original 1908 Bank Building in Dorris to create a museum & visitor center for the community. It has been newly refurbished & many historical artifacts have been acquired to be put on display.  She has been involved in many revitalization projects in the area & in bringing the Art of Survival bike ride to Butte Valley.
The limited space of this article cannot contain all of Christine's accomplishments.  Her community is so grateful to her for the countless hours she volunteered to make the Butte Valley a great place to live.
Honored and teary-eyed from the presentation and heart-warming comments from the friends she worked alongside, the lovely award ceremony was a nice farewell for Christine before she returned to Idaho, where she has recently made her home. Inspirational and wise in the journey she has embarked on, Christine Baldwin closes a chapter in her life with the Butte Valley community, but declared to those attending, "I will be back."
https://ruralklamathconnects.com/wp-content/uploads/2023/06/BC-Citizen-of-the-Year-2.jpg
640
502
Bonanza
https://ruralklamathconnects.com/wp-content/uploads/2017/03/RKC-Logo.png
Bonanza
2023-06-16 07:25:34
2023-06-16 15:05:03
Butte Valley's Citizen of the Year